Welcome, Librarians!

Valerie Taylor is the author of the award-winning trilogy: What's Not Said, What's Not True, and What's Not Lost. The first two books were published by She Writes Press and are available in print through both Publisher Group West and Baker & Taylor and as an eBook through Overdrive and Hoopla. What's Not Lost was published by Aspetuck Publishing and is available in print through Ingram Spark, Baker & Taylor, and as an eBook through Amazon KDP.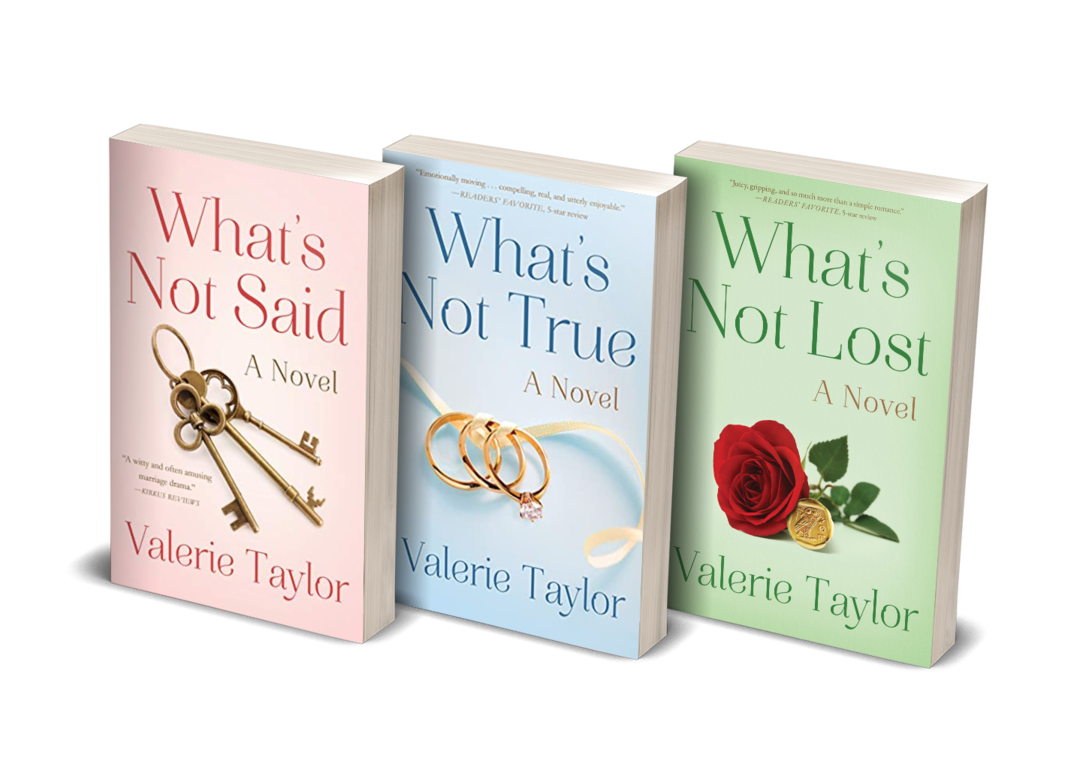 What's Not Said: ISBN-13: 978-1-63152-745-6
What's Not True: ISBN-13: 978-1-64742-157-1
What's Not Lost: ISBN-13: 979-8-9865995-0-2

What's Not Trilogy Fact Sheet
Set in Boston, What's Not Said tells the story of Kassie O'Callaghan, a middle-aged woman finally ready and willing to divorce her emotionally abusive husband of thirty years and move in with a younger man she met on a solo excursion to Venice. Just as she's about to break the news, she discovers her husband has a life-threatening illness. Conflicted by her vows and a deep desire to start a new life, she's forced to decide whose life to save—her husband's or her own.

Read an excerpt from What's Not Said here.
Described by readers as "sassy and saucy," as well as a book they stayed up way past their bedtime to finish, What's Not Said:
Has received favorable praise and reviews from:
Named a 2021 International Book Awards Finalist in Fiction: Women's Fiction
Is internationally recognized as a 2020 Canadian Book Club Awards Finalist in Fiction.
Will be one of Pulpwood Queens Book Club's Bonus Book Selections in August 2021.
Was featured as the May 2021 selection for the international NoMo Book Club.

In What's Not True, Kassie shifts her attention away from the two men in her life and commits to reviving her stalled marketing career. After a chance meeting with a colleague in Paris and a stroll along Pont Neuf, she receives two compelling proposals. Before she can grab the gold ring and have it all, Kassie must fight to protect what's legally and rightfully hers. In time, she discovers that sometimes it's what's not true that can set you free.
Praise for What's Not True includes a Readers' Favorite 5-star review.
The saga continues in What's Not Lost. Kassie is searching for herself and for answers. Convinced managing a company merger in Paris will complete her, her dream comes tumbling down when she learns her fiance's ex-girlfriend is pregnant. Despite pleas from friends and family to stay in Boston, Kassie heads to Paris. There she stumbles into a world of wine and roses, putting her strengths and beliefs to the ultimate test. When a Greek businessman tries to rescue her, Kassie discovers—in life—it's not whether you win or lose, it's the way you love that counts.

Early reviews are positive! Everyone loves Topher the Cat! Here's just one of the reviews from BookTrib.com.

Valerie Taylor would be honored to meet virtually with your library's book club. Contact her through this website or directly at valmtaylor@gmail.com.

WHAT'S NOT SAID
Genre: Women's Fiction
Publication date: September 15, 2020
Publisher: She Writes Press
ISBN-13: 978-1-63152-745-6
Publisher Group West and Baker & Taylor
Price (Format): $16.95 (Paperback)
316 pages


WHAT'S NOT TRUE
Publication date: August 24, 2021
Publisher: She Writes Press
ISBN-13: 978-1-64742-157-1
Publisher Group West and Baker & Taylor
Price (Format): $16.95 (Paperback)
322 pages


WHAT'S NOT LOST
Genre: Women's Fiction
Publication date: February 7, 2023
Publisher: Aspetuck Publishing
ISBN-13: 979-8-9865995-0-2
IngramSpark and Baker & Taylor
Price (Format): $16.95 (Paperback)
316 pages