Nine Tenths of the Law
Two Sisters Refuse to Bury Their Past

Remember the movie The Monuments Men? Audiences around the world were awestruck at how the Nazis stole and sought to destroy valuable artifacts during the war. NINE TENTHS OF THE LAW by Claudia Long serves as a much-needed reminder that even after the war, thieves and vandals continued to hide, and often destroy, objects that were highly valued both monetarily and to the Jewish families who once owned them.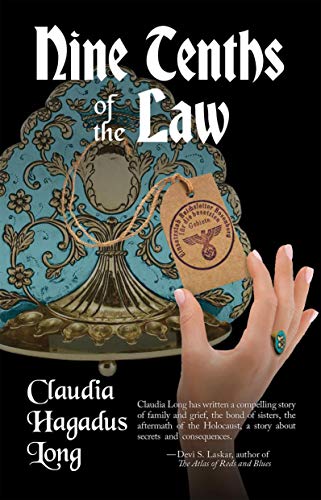 Two sisters, with diametrically opposite recollections, are the center of the story as they search for a menorah they are convinced belongs to the family. After seeing it years prior at a museum, they return to claim their right to it. But it is gone, and the one person who might have a clue to its whereabouts has been murdered. Thus begins an intriguing tale of "whodunit" and "whereisit" that is both dangerous and sometimes humorous as the sisters share their childhood memories in an attempt to unbury the past.
By taking a contemporary approach to an historical event, Long answers critics who warn that if we don't remember the past, we're apt to repeat it. NINE TENTHS OF THE LAW will help ensure we don't forget.