Em's Awful Good Fortune
An Awfully Great Story
Em's Awful Good Fortune (She Writes Press, 2021) by Marcie Maxfield is an awfully great story about a woman who packs up her bags, her career, and her children to tag along with her husband wherever in the world his job takes him. Through Em's no holds barred stories, we travel with her and experience what it's like to be an expatriate in some familiar cities, like Paris and Tokyo, as well as exotic locales (at least to many Americans), like China and Korea.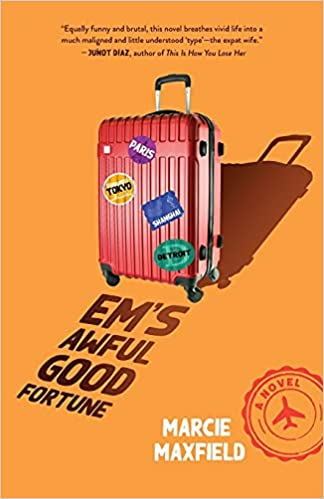 While this novel sometimes feels like a collection of essays that are both humorous and scary at times, Ms. Maxfield's unique prose keeps the reader turning to follow Em's next adventure.
For her part, Em is a gem. Despite her long-held desire to have a life and career to call her own, Em tries to stand by her man, even when she struggles to do so. By the end, it occurred to me that Ms. Maxfield could've easily named this exceptional debut novel, Em's Husband's Awfully Good Fortune…for having married her in the first place. If books are meant to entertain and educate, Em's Awful Good Fortune succeeds on both counts. I consider it my good fortune to have read it. You will too.

Em's Awful Good Fortune is available in paperback, eBook, and audiobook. Here's just one link to purchase.