The Two Lila Bennetts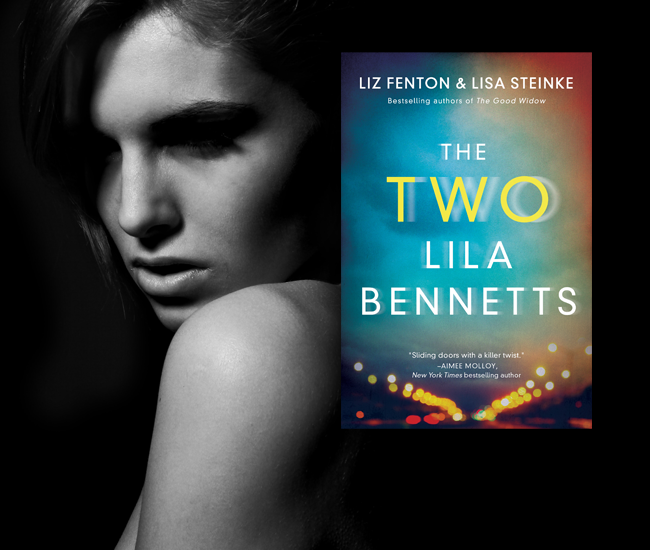 A story of survival? Or redemption? Whichever. "The Two Lila Bennetts" is still a mystery.
A review and author interview by Valerie Taylor posted on BookTrib
She is captured—blindfolded and restrained—as well as constrained by the ethics of her profession to defend a client who may be guilty of murder. Once the client is found not guilty, all hell breaks loose.

And that's just by page one.

Buckle your seat belt. All by itself, the title of this book, The Two Lila Bennetts (Lake Union Publishing), suggests we're in for a ride twice as wild as the average thriller. Co-authors Liz Fenton and Lisa Steinke deliver mightily on that expectation. Page by page, chapter by chapter, these consummate storytellers capture our psyche and our breath as they invite us to solve this "whose-doing-it" masterpiece.

After a decade of getting rich representing clients whose innocence could be debated, cutthroat defense attorney Lila Bennett suddenly develops a conscience. But it's not like she wakes up one day and asks herself, "What the heck have I been doing?" No, it actually takes five days and two terrorizing narratives for her to confront her past and present demons and decide what kind of person she wants to be the rest of her life.

On one level, this is a fast-paced thriller—a lights-on must-read. But underneath, the duality of Lila challenges us to consider our own moral compass. Could you defend someone you believe is guilty as charged? How do you define friendship? Must you leave your ethics at the door each day when you arrive at work in order to have a successful career? Is loyalty more important than justice?

Though it asks age-old questions, The Two Lila Bennetts is fresh and contemporary. It's logical that it's set in Los Angeles, a city known for giving us fairytales, science fiction, and superheroes.

Just like Hollywood, the authors lure us into their story, asking us to suspend common sense and to embrace the mystery and suspense of Lila's journey. To seal the deal, Lila's world—filled with Ubers, text messages, Fiji water, designer shoes bought by her assistant, and high-fructose syrup—is as familiar to us as our favorite pair of socks. We smile at the same time we chew our fingernails.

Honestly, as I stayed up reading later than normal, my inner Hercule Poirot was on high alert, searching for clues as to who the villain was and for signs that the captured Lila would survive, and the free Lila would be redeemed. Or is it the other way around? Be prepared to lose a few little grey cells figuring this one out.

In fact, the authors revealed an interesting twist in a BookTrib Q&A when asked whether they knew from the beginning who Lila's captor would be.

"Yes, we did. However, our editor and agent suggested we change Lila's captor, for a myriad of reasons. And so we switched out the bad guy! And they were right—the story is much stronger for it."

Whereas the plotlines stretch our imagination, Liz and Lisa's narrative guides us expertly through competing realistic and dreamlike (a.k.a., nightmarish) scenes. Dialogue is natural and idiomatic.

The parallel story structure succeeds in raising our blood pressure as much as Lila's. There's one big difference: We can unbuckle and exhale when the story is over, confident that the choice we made in reading this thriller was the right one.

Here are some more of the authors' insights from our Q&A:

This is an intricate story. Did you plot each scene before you started to write or did you let the characters and story unfold on their own?
We aren't huge outliners. We did discuss the overall feel of each chapter—what needed to be accomplished. Or if there was a secondary storyline that needed some attention. But mostly, it was an organic process. We knew where the story was headed but gave ourselves plenty of wiggle room.

How did you organize your writing? Did one of you write the Free chapters and the other the Captured chapters?
We pass chapters back and forth. For instance, Liz will write chapter one, send to Lisa, who will then edit and send back. Then Lisa will begin chapter two and repeat the process. With this novel, we purposely flipped writing "captured" and "free" each time so that neither storyline fell flat.

Hopefully the adage, "write what you know," did not apply to much of this story. That said, what did you draw on to write the emotionally draining scenes?
Yes, neither of us has ever been kidnapped, thank goodness! But we still were able to draw on fear—that feeling when you think your whole world may be crashing around you. Or those near-miss moments that have you shaking for minutes after. As writers, we extrapolate those points in time to help us understand our characters better.

How do you critique each other's drafts?
We edit each other's work as we go by marking changes in Word. (We're old school like that!) Once we have a complete first draft, we move it over to Google Docs and begin to finesse. We'll typically read through to assess what needs to be fixed and then divide it up. But even then, we are constantly editing each other's adds. It's very collaborative.

If you could form a book club with your favorite authors, who would you invite to join?
That's a tough one because we have so many author friends we adore! We'd have to include all of our San Diego author friends, so it's easier to get together, and we can all Uber home after too much wine. That would include Kate Quinn, Michelle Gable, Susan Meissner, Helen Hoang, Kristin Rockaway, Margaret Dilloway, Renee Carlino and honorary San Diegan Kristina McMorris!

Is another book in the works?
Yes! We just turned in the draft, and it will publish in Summer 2020. It's called How to Save a Life, and it's a dark love story. We hope you love it!

Finally, do you wear four hundred dollar shoes, like Lila?
We wish! One thing is for sure, we'd take much better care of them!