Mary Camarillo, author — An Interview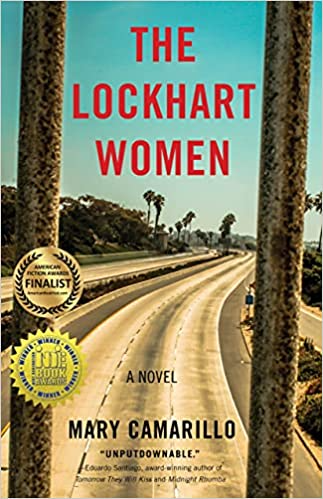 In June 2021, Mary Camarillo published The Lockhart Women (She Writes Press) and almost immediately won the 2021 Next Generation Book Award for First Novel.
The Lockhart Women tells the story of Brenda Lockhart's family that is already living beyond its means in Huntington Beach California when her husband announces he's leaving them for an older, and in Brenda's opinion, less attractive woman. He drops this bombshell on the night of the OJ Simpson slow-speed chase through Southern California. While Brenda is quickly addicted to the media circus surrounding the trial, her daughters are busy making their own bad decisions with lovers and crime.
I had the privilege of interviewing Mary as part of a research project, focusing on nine writers who published their first books after the age of 60. Since I could only include a snippet from each of those interviews in Better Later than Never, here is the full interview below for your reading pleasure.
Q. What was the biggest challenge you faced in creating your first novel after you were 60?
A. When I first started writing, I didn't take my work seriously until I went to my first writing conference—the Community of Writers in the High Sierras. I went to the conference with great expectations of finding an agent, fame, and fortune. I left realizing how much I needed to learn about the craft and came home with a sense of purpose and discipline. I created a separate writing space and stopped letting people call my writing "a hobby."
Q. Why did it take you until age 60+ to write your book?
A. Although I have been a voracious reader throughout my life, and then wrote poetry in high school and edited the literary magazine, I never thought about writing fiction until I started writing audit reports.
Traditional auditors will bristle at this statement. "We write truth," they will argue. An audit finding must contain five elements: Condition, Cause, Criteria, Effect, and Recommendation. I won't bore you with an audit lesson, but the two elements that relate specifically to fiction are Cause and Effect. In other words: Why did something happen, and who cares that it did? Audit reports also need to be interesting if you want anyone to read them.
Similarly, fiction must also contain truth and be interesting to read but making stuff up is definitely more fun than writing audit reports.
Q. What in your personal experience/career made its way into your story?
A. I retired from a long career at the postal service, and I used stories, characters, and actual events in The Lockhart Women. I always knew there was a book to be written about the postal service besides Charles Bukowski's iconic Post Office. Postal employees work odd hours requiring them to miss social events and lose sleep. They work with a wide variety of ages, cultures, and life experiences. Eventually, the people they work with become their second families. There are affairs, arguments, fights, and so many stories!
Q. If you could change anything about your writing life, what would it be and why?
A. I had no idea what to ask for when I chose a publicist or what direction to give them. My goal was simply to publish a book other authors would respect. It's still my personal goal, but I realize now that it doesn't give a publicist anything to work with. Next time, I will try to be more specific and aim higher. The challenge is that publicizing and marketing a novel is an ever-evolving situation.
Q. What advice would you give to aspiring authors?
A. My advice is to find your local writing community, show up at their events, buy their books, write reviews, and champion their work however you can. I have found this so rewarding personally and artistically over the years.
Now that I'm published, I'm overwhelmed at the support of my local community. Writers have written blurbs for my novel, interviewed me for podcasts and local media, published my essays, hosted book launches at local bookstores, and thrown elegant book club parties. I never expected any of this, and I am so grateful.
Q. Any final thoughts about the topic of writers publishing for the first time later in life?
A. Here are four:
Find a writing group.

Helping someone make their work better allows you to be more objective about your own pages. And it's equally important to learn when not to listen to other people's advice. Grow a thicker skin and trust your own voice.

Stay in your chair for specified periods of time.

Inspiration often strikes just at the moment I'm ready to give up and look at Facebook. And also, know when to get up and walk around or do some mindless tasks. I can usually figure out a sticky plot point when I'm pulling weeds or folding laundry.

Don't be afraid to revise.

As Richard Bausch says, "You can't ruin anything, you can only make it necessary to do again."

Finally, be stubborn.

Believe in your work. It will eventually find a home.
Lucky for us all, The Lockhart Women is available everywhere in paperback or as an eBook. Here is one link.
You can also follow Mary at:
Website: marycamarillo.com
Facebook.com/mary.camarillo.31
Twitter: @MarycamelMary
Instagram: marycamel13