Kate Szegda, author — An Interview
Sometimes books come along precisely at the right time. Such is the case, I believe, with Kate Szegda's award-winning Pharmacy Girl: The Great War, Spanish Influenza, and the Truth About Billy Detwiler (Kindle Direct Publishing, 2019). This story of hope and survival is an important one that must continue to be told.

Fortunately, I had the privilege of interviewing Kate as part of a research project, focusing on nine writers who published their first books after the age of 60. Since I could only include a snippet from each of those interviews in Better Later than Never, the full interview below provides insight as to why you should read Pharmacy Girl.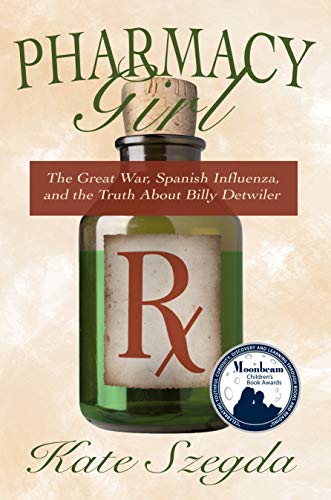 Most Americans know now that before COVID, there was the Spanish influenza in 1918. But beyond that fact, there is much to be learned…and remembered…and shared. While there were masks available, schools, restaurants, and churches closed. There were no effective vaccines, no ventilators, and no medicines to stop the virus caused by a deadly germ carried on a puff of air. One in four Americans were stricken, and an estimated 675,000 Americans died. As a result, the nation was forced to curtail the draft, despite having a war to win.

Inspired by the stories her mother told her about surviving the Spanish influenza pandemic of 1918, Kate wrote Pharmacy Girl through a kid's-eye-view. Written as a cautionary tale, little did she ever imagine we'd be living through another great pandemic during her lifetime.

Q. What was the biggest challenge you faced in creating your first novel after you were 60?
A. Staying on task was the biggest challenge I faced. Since I tend to work in spurts, the writing took longer than I would have liked. The other challenge was getting a publishers. Queries were taking time, and time was running out since I wanted to publish to coincide with the centennial of the 1918 pandemic. I decided to self-publish via Amazon's KDP. I got help with formatting, editing, and marketing from a local consultant.

Q. Why did it take until 60+ to write the novel?
A. Work. Motivation. I waited until retirement to dive into children's writing.

Q. What in your personal experience/career made its way into your story?
A. Actually, a couple of things. First, I taught middle school, so creating middle-school characters was fun. I had a lot to draw on; and being an ELA teacher, I was pretty familiar with middle grade and YA (young adult) literature. Secondly, my mother used to tell me about how she and the family had Spanish influenza in 1918. That got me wondering why or how they survived. And that led to other questions and Pharmacy Girl. My mother's stories of the family pharmacy and a great collection of family photographs helped me create their world.

Q. If you could change anything about your writing life, what would it be and why?
A. That's simple. I wish I could work faster.

Q. What advice would you give to aspiring authors?
A. For aspiring authors I would say, have fun! Don't give up. Get involved with writer's groups, etc. You will meet great people who will help and encourage you.

Moreover, tell your children and grandchildren about COVID. Maybe they will write about it 100 years from now when we've all forgotten about the pandemic again and need a wake-up call. I'm so glad my mother told me about Spanish influenza because when COVID hit, I knew if she and my family survived Spanish influenza, I could survive COVID. It helped me not be scared.

Q. Any final thoughts about the topic of writers publishing for the first time later in life?
A. I've thoroughly enjoyed the process and meeting new people. You don't have to go it alone. Get help so you can keep moving forward. Furthermore, I was fortunate enough to have lots of older women as role models—women who stayed busy and did things. We are the role models now for our children and grandchildren.

Pharmacy Girl is available in both paperback, as an eBook, and with Kindle unlimited. Here is one link. Lucky for me I have my own autographed copy!

You can also follow Kate at:
Website: kateszegda.com
Facebook.com/kateszegda
Instagram: kateszegdaauthor