Dianne Ebertt Beeaff, author — An Interview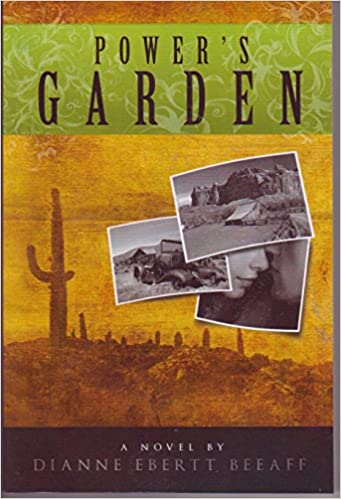 My first introduction to Dianne Ebertt Beeaff was through the award-winning On Tràigh Lar Beach (She Writes Press, 2020), a collection of twelve stories and a novella, which I highly recommend. So, I was thrilled when Dianne agreed to be part of my research project focusing on nine writers who published their first books after the age of 60. That project culminated in a guest blog entitled, Better Later than Never, where space merely allowed a single paragraph for each author.
So, here is my full interview with Dianne featuring her historical fiction, Power's Garden (Five Star Publications, 2009).
With the backdrop of World War I raging in Europe, Power's Garden tells the story of two families and two women—one Texan, the other Mormon—who develop an embattled but gripping relationship in Arizona's Gila Valley, as their opposing cultures collide during a deadly drought.
Q. What was the biggest challenge you faced in creating your first novel after you were 60?
A. At the time I began writing Power's Garden, I had been working for many years as a magazine journalist, so I think the most difficult part of writing that book was being faced with a project that demanded far more depth, research, and commitment than the shorter non-fiction pieces I was writing at the time.
Q. Why did it take you until age 60+ to write your book?
A. Power's Garden was written about twenty years before it was published. Having written the first draft, I put it aside in favor of my primary professional writing, which was non-fiction magazine articles, as well as forays into the art world.
I remember that the editor of one magazine I'd been writing for died and the magazine went under. And then two articles I'd been commissioned to write for Arizona Highways were set aside when a new editor changed the focus of the magazine. It was then that I turned to books. However, I'm a slow writer, and I was in the throes of U2 fandom at the time. So my memoir, A Grand Madness, Ten Years on the Road with U2 (Hawkmoon Publications, 2000) and a book of poetry, Homecoming (Hawkmoon Publications, 1998) took precedence. I didn't get back to Power's Garden for nearly another decade.
Q. What in your personal experience/career made its way into your story?
A. I was born and raised in Kitchener, Ontario, Canada, but was drawn to the American Southwest at an early age and moved to Phoenix in the late 1960s. In the 1980s, while continuing my writing career—along with raising two children—I earned a BA with a major in history from the University of Arizona. In the process, I happened upon the violent 1918 shoot-out between Texan ranchers and Mormon lawmen in Power's Garden and was intrigued by the culture clash involved.
Subsequently, along with my husband and son, I hiked into the Galiuro Mountains in southeastern Arizona to visit the homestead ranch of Power's Garden itself. Other than that, there is nothing in the book relating to me personally, though I used some 'ancestral' material for various characters' background stories.
Q. If you could change anything about your writing life, what would it be and why?
A. I am actually quite satisfied with my writing career. Writing is so often a struggle on some level, but, as writers, we accept that for the most part. Most of us are writers because we have to write. I feel I have been very fortunate to have been able to tell most of the stories I've wanted to tell during my career.
Q. What advice would you give to aspiring authors?
A. Write what you need to write, no matter in what time of life you're able to do it. That's where and when your passion will show itself most strongly. And always look forward, as long as the need to write remains. To write successfully requires Patience, Practice, and Persistence in no particular order. When it comes to writing—and many other things in life—age is just a number.
As one of my favorite new-to-me authors in 2021, Power's Garden is high on my TBR pile! You should add it to yours!
Available as both a paperback and an eBook. For your convenience, here is one link.
Be sure to follow Dianne at:
Website: http://debeeaff.wordpress.com
Facebook.com/Dianne.beaff.9
Twitter: @dianneEBeeaff