Deborah K. Shepherd, author — An Interview
Rumor has it writing a novel can be a lonely, yet gratifying, endeavor. Just ask award-winning author, Deborah K. Shepherd. After receiving a rejection at age 41, she stored it away, assuming it had no future. Lucky for us, she didn't toss aside her draft permanently, as thirty years later she exhumed, redrafted, and published So Happy Together (She Writes Press, 2021). And all the while she assumed she'd be the only woman publishing at the age of 74.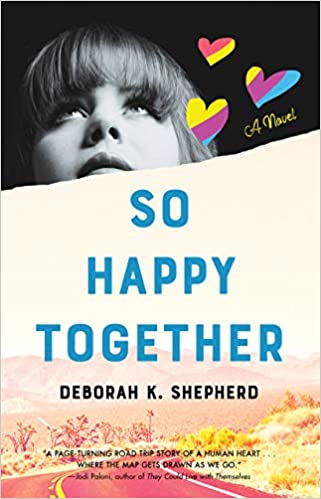 While Deborah's publishing journey seems long, she told me in an interview that one of the most gratifying experiences of this "wild and crazy trip" is the community she found with She Writes Press, where writers of all ages achieve their dreams. So, in retrospect, being a published novelist may not be as lonely as it seems at the get-go.

Not meaning to, I inadvertently made Deborah wait again. Last but certainly not least, the full interview I did with her for my guest blog Better Later than Never that focuses on nine writers who published their first books after the age of 60 is published here.

So Happy Together explores the conundrum of love and sexual attraction, creativity and family responsibilities, and what happens when they are out of sync. Set in the sex, drugs and rock 'n roll '60s—when drama students Caro Mills and Peter MacKinley were kooky, colorful, and inseparable—and the suburban '80s, when Caro's creative spark has been quenched to serve the needs of her husband, Jack, and their children. It is a story of missed opportunities, the tantalizing possibility of second chances, and what we leave behind, carry forward, and settle for when we make our choices. It sits in that raw, messy, confounding beautiful place where love resides.

Q. What was the biggest challenge you faced in creating your first novel after you retired?
A. The expectations of marketing the book and managing social media were my biggest challenges. Took me way beyond my comfort zone.

Q. Why did it take you until after age 60+ to complete your book?
Raising two teenagers as a single mother and my career as a social worker was all-consuming. I was pulled in too many directions simultaneously to even think about writing until I retired from my position as director of a non-profit. Now, I can't stop writing.

Q. What in your personal experience/career made its way into your story?
My book is set in the '60s, the era in which I came of age, and in the '80s, when my first marriage was unraveling—all of which parallels my main character's life. Some of her college experiences were similar to mine; some of my characters are based on or are composites of people I knew. Nevertheless, the story is fiction.

Q. If you could change anything about your writing life (writing career), what would it be and why?
There's not much I would change. If I had continued working on the novel in my forties, I would not have had the gratifying career I did. I guess if I could change anything, it would be the demands of marketing the book, but that goes beyond the parameters of my actual writing life.

Q. What advice would you give to those who come behind us?
Just do it. Hopefully, at some point you're going to be in your 60s, 70s, 80s anyway, so you might as well be an author in your 60s, 70s, 80s or even 90s.

So Happy Together is available as an eBook, audiobook, and paperback. Here's one link.

You can also follow Deborah at:
Website: https://deborahshepherdwrites.com
Facebook.com/Deborah K. Shepherd, author
Instagram: dkshdw74
Read my review of SO HAPPY TOGETHER.