Beneath the Veil of Smoke and Ash
Some stories are meant to be savored.
Beneath the Veil of Smoke and Ash (She Writes Press), by award-winning author Tammy Pasterick, is an exceptionally crafted novel about Pittsburgh, immigrants, and family.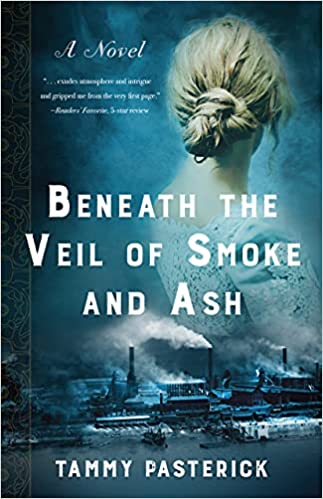 Honestly, I was drawn to this book. Though it sat on my TBR pile for a short time, it spoke to me. A voice kept repeating, "you must read Beneath the Veil of Smoke and Ash."
Why the haunting attraction? Some years ago, I had a client in Pittsburgh and traveled there often. On each visit as I approached this modern city by taxi, I was struck by the blackened exteriors of the buildings and tried to imagine what it was like to live there with all the smoke and ash.
What I quickly discovered was that this historical novel offered a lot more than insight into the consequences of the tonnage of soot released into the air by the steel industry. Rather, it's about what lay beneath all of that grime and smut. I should've focused on the first three words of the book's title than the last three.
Because that is where the heart and soul of Paterick's achievement resides. The author masterfully juxtaposes the golden age of steel in 1910 with the dangerous reality of living as an immigrant in America at that time. From the steel mills where workers risked their lives daily to a coal mine in a "little hollow nestled in the Allegheny mountains," Pasterick takes us on a thrilling and engrossing journey.
For instance, in the most intense piece of writing I've read in a long time, Pasterick describes what happens to coal miners when a mine collapses on top of them. In real life, we've cheered when rescuers located and freed survivors, having only a top-down perspective. In Beneath the Veil of Smoke and Ash, Pasterick flips our sights, giving us a bottom-up view of the horrors coal miners experience in order to live...all through the eyes of a teenager who believes in the future.
Most of all, Beneath the Veil of Smoke and Ash is the story of a strong Eastern European family that fends off one challenge and heartache after another as they struggle to survive in a country divided between the haves and have-nots.
I'm glad I didn't rush through this book, as Pasterick's eloquent and emphatic writing style is to be savored, like a fine wine. If you're looking for a book that will enrich, as well as linger after you close the back cover, I highly recommend Beneath the Veil of Smoke and Ash.

Beneath the Veil of Smoke and Ash is available in paperback and eBook wherever you get books you'll want to keep on your shelf after you've read it! Here's just one link: https://amzn.to/3xeXFae