The Takeaway Men
There's much to take away in The Takeaway Men

In The Takeaway Men (Sparks Press), Meryl Ain sheds much-needed light on a topic rarely explored. What happened to the families that survived the Holocaust?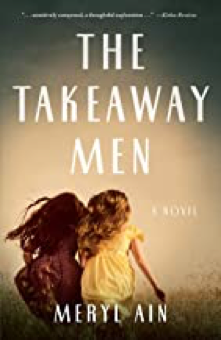 This story is about one such family—the Lubinskis.
Mostly through the eyes of twin sisters, Bronka and Johanna, and through the actions of their parents Judy and Aron, we witness this family's struggle to acclimate to a post-WWII world. In 1951, they arrive by ship in New York Harbor from a Displaced Persons Camp outside of Munich, Germany, with few belongings, as well as family secrets that remain hidden until 1962.
Together with the four Lubinskis, we move into the cozy home of cousins Izzy and Faye in Bellerose, New York. We grow with them as the girls attend school in America and develop their individual personalities, interests, and friends. We admire their father as he dutifully works in Izzy's bakery and embraces his faith to a deeper extent than Izzy. And we support and protect Judy as she tries to please Faye who's curious about Judy's lack of knowledge of Jewish traditions.
As years pass and the girls begin to learn outside of their home about the horrors of Hitler and the Holocaust, they have questions that demand answers. Will Judy and Aron reveal the truth about their past?
Throughout The Takeaway Men, Ms. Ain masterfully interweaves sub-plots that show us exactly what life was like for Jewish refugees in this country back in the 1950s. Her story forces us to reflect on our own beliefs and to confront the realities of hateful discrimination in our world today.
Though the story focuses primarily on the twin sisters, Ms. Ain intentionally provides us with an ensemble cast, weaving multiple points of view that are clear and easily followed. A favorite character of mine is Faye—strong, opinionated, wise. Through her, we see Judy grow into the loving wife and mother she was always meant to be.
Don't be misled. The Takeaway Men is not just a story about life after the Holocaust. Growing up Polish Catholic myself, I was particularly drawn in by this Polish Jewish family and felt deep sorrow for those who experienced this hell then and for all those who are discriminated against today. It's a story about immigration, faith, honesty, courage, and strong family ties that can and never should be broken.
As I closed the cover on this powerful novel, I was struck by how it had started and how it concluded. Just as Judy gave Aron a safety net in her attic to protect him from the Nazis, Izzy and Faye anchored the Lubinskis by opening up the attic in their home and sharing their abundance of love.
Readers will discover vivid descriptions, a fast-moving story, and richly developed characters whose dialogue is colorful and engaging. And for those unfamiliar with Yiddish or Hebrew, there's a helpful Glossary in the back of the book.
What is that quote? "Those who do not learn history are doomed to repeat it." One of the best ways to learn history is through historical fiction like Meryl Ain's The Takeaway Men. An important story for teens and adults alike.

The Takeaway Men by Meryl Ain is available NOW for purchase through your favorite bookseller.