Freedom Lessons
Freedom Lessons (She Writes Press) by Eileen Harrison Sanchez is a lesson for us all.
Through her experience as a teacher in the South in the late 1960s during desegregation, especially of the schools, as well as her in-depth research, Ms. Sanchez places us squarely in the shoes of a white teacher, a black teacher, and a black high school student. When a black school abruptly closes and merges with a white school, things don't go quite the way the white administration planned. It takes the courage of the black students, their teachers, and brave citizens to stand up for what they believe is best for their community.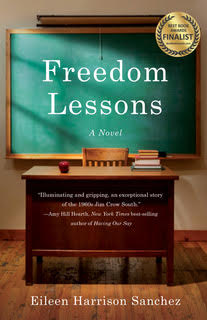 Those of us who viewed integration from afar mainly through reports on television or newspapers were blind to the reality of the unjust and indignant treatment of our American brothers and sisters. Ms. Sanchez opens our eyes and tells it like it was.
After reading this important, powerful, and moving story, I can't help but wonder if there was something else we could have done if we'd tried for even one day to sit in their classrooms?
A small piece of advice for aspiring authors struggling with a memoir, perhaps turning your story into a novel may be the way to go. That is, in fact, what Ms. Sanchez achieved in Freedom Lessons. I'll give her an A+.

Freedom Lessons is available through your favorite independent bookstore or online bookseller.