Eating Better 2020 Project
To see the stories about the recipes I'm trying, scroll down.

Have you noticed, even small cans or jars have been replaced on grocery shelves with super-sized larger cans and jars? If you want a small jar of applesauce, you have to buy a package of six. And whatever happened to a package of four English muffins? I really don't want six.
This conundrum made me think about my own terrible eating habits.
Let me see. I could blame it on living alone. Or that I'm tired at the end of the day after taking care of my granddaughter. Or that cooking bores me, and I don't like washing dishes. Maybe it's that I keep burning everything I cook on the electric range in the condo I just bought in September.
Guilty on all counts.
Time to pull myself up by my apron strings and make a change. And there's no better time than a new year, a new decade, to start a new project. Baby steps, though, if I want to succeed.
So here's the objective: eat better in 2020. The plan: once a week try a new main meal recipe. Start with 20 new, healthy meals. Then, I'll try 20 more. Get it? 2020!
This isn't going to be a Julie and Julia undertaking. I'm not that foolish! Rather as resources, I'll use these cookbooks and recipes I've ripped out of magazines or found online. And because I have a lot of food hang-ups (oh, I didn't mention that), more than likely I'll substitute ingredients along the way. That's allowed, right?
If you're curious, follow my progress here and on social media: #eatingbetter2020project.
Wish me luck!

#1 Spaghetti Carbonara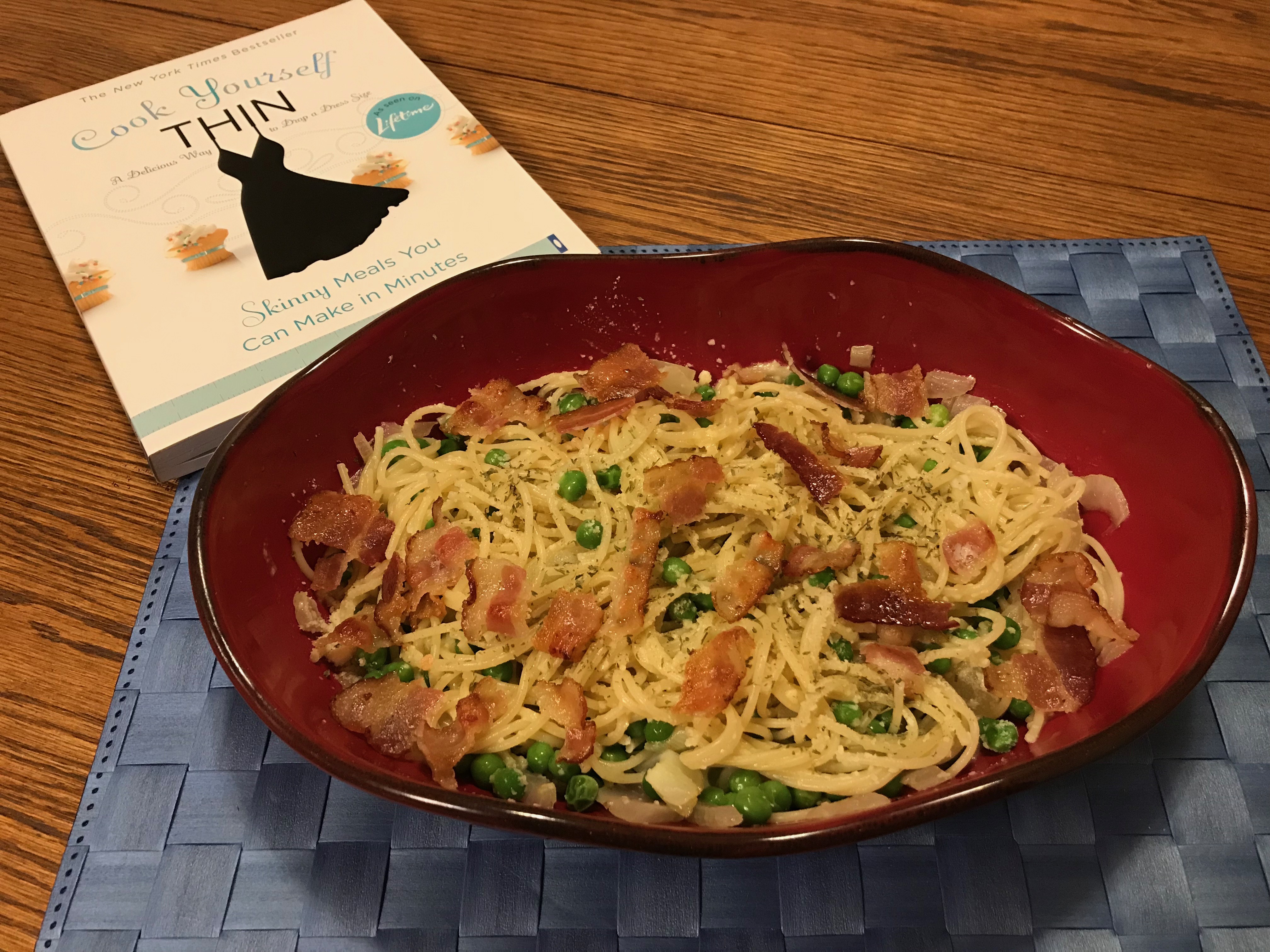 Not surprising the first recipe I tried was Spaghetti Carbonara. I happen to love spaghetti. Online you can find many recipes for this particular dish that doesn't have a tomato sauce. I chose the one on page 157 of the Cook Yourself Thin cookbook as seen on the Lifetime television show.

The ingredients are simple. Spaghetti, peas, onion, bacon, an egg, Parmesan cheese, and parsley. Because of the bacon, I didn't add salt, but then I rarely add salt to anything I eat.

While I made this during the third quarter of the Kansas City/Tennessee NFL playoff game, since the end result of that was pretty clear at that point, I realized why I don't cook more often: I make a total mess. Though the recipe is simple and inexpensive, I had multiple chopping blocks, bowls, utensils, and pots scattered around my kitchen to clean up after the game.

As all cooks know, it really doesn't take long to clean up and return your kitchen to an organized state. Something I need to remind myself as I venture to recipe #2.

Calories are 412 per serving. Overall score with 10 being best: 9 probably because the portion I allowed myself was less than 400 calories, so I was a bit hungry a couple of hours later. Onward.